The Lake tarawera holiday home that will make you return everytime
Book this family holiday home at Lake Tarawera for your next family adventure!
The amazing lake tarawera holiday homes for rent
This lake tarawera holiday homes is situated on the lake side with a 30 second walk to a beautiful private beach. The property is on a flat section commanding all day sun and stunning views of Lake Tarawera and Mount Tarawera volcano. Plenty of room for a boat or two in a large turnaround driveway.
Relax in luxury with leather furniture, top quality beds and bedding, hammocks and a hot tub.
4 bedrooms and 2 bathrooms make it ideal for two families (9 people in total)
Kayaks supplied for discovering the incredibly beautiful lakeshore.
Get creative with the pizza oven! All wood supplied.
Wake to the sound of New Zealand's native birds.
Get cosy in winter with a wood fire, heat transfer system, luxurious mattresses, electric blankets and endless games for all ages.
Modern kitchen with granite surfaces, new oven and Nespresso coffee machine.
Activities to do while you stay at Executive Holiday Home at Lake Tarawera
From Trout fishing to mountain biking - Do it all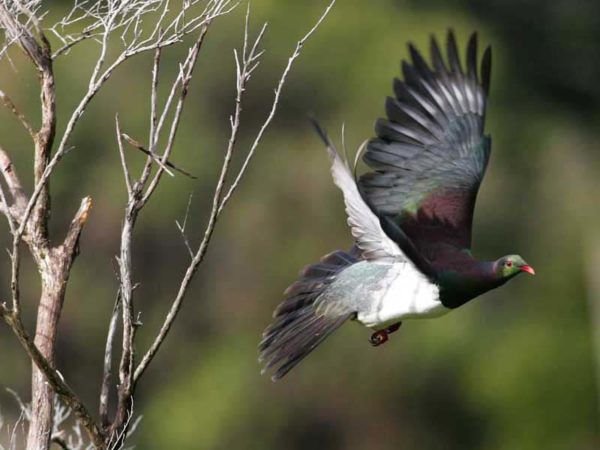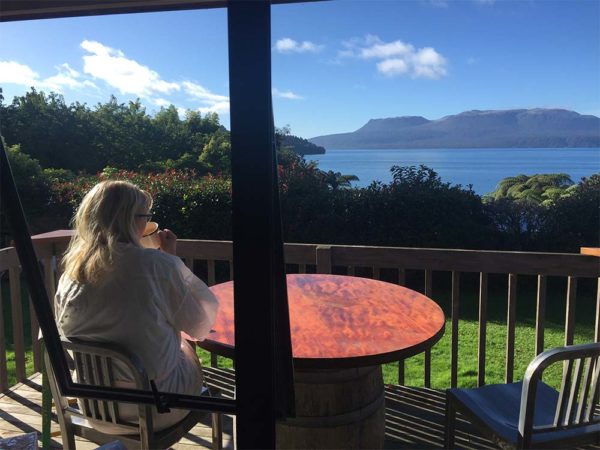 We are Here!
Right next to Lake tarawera, Hiking trails and more!
This tarawera accommodation is available all year; offering breathtaking lake and full mountain views.
Lake Tarawera is a water skier's paradise, a mecca for trout fisherman, and a photographer's delight.
30 second stroll from the house to a safe swimming beach
catch trophy trout off the jetty on the beach
Two entrances, heaps of parking and space for boats
Lockable boat shed on the water in the sheltered lagoon nearby
3 kayaks and 5 bikes to go exploring
Superb hiking trails and, above all, a relaxing holiday heaven
The Best Lake Tarawera Accommodation that will create long lasting happy memories for your family!
This lakeside accommodation rotorua at a glance
Book a bach at Executive holiday homes Lake Tarawera rotorua

If you are looking for holiday homes lake tarawera rotorua, look no further! This is Lisa and Denis and we welcome you to our lake tarawera executive holiday home. Whether you are looking for a relaxing vacation at lake tarawera nz or looking for an adventurous one - we have it all.
Our lake tarawera executive holiday home is one of the best holiday homes to rent lake tarawera! We fell in love with this lake tarawera holiday home so much that we bought it! And started hosting travelers. We have 3 kids of our own and we enjoy hiking, skiing, fishing, camping, mountain biking and playing indoor games with the family.
More features of our Holiday homes lake tarawera
Each of the 2 bathrooms has hot tubs and the furniture is made of leather. This is your home away from home where you prepare your own meals in a granite floored kitchen that is equipped with a new oven for you to make pizzas and a nespresso coffee making machine.
When you opt to take a holiday during the winter season, you will not have fun unless you stay warm. In this Lake Tarawera executive home there is wood fire, heat transfer system while the 4 bedrooms have luxurious mattresses, electric blankets, quality beds and beddings.
Other amenities when you opt for this Lake Tarawera accommodation rotorua include a hot pool, a parking lot for cars and a boat, slide and swings for your little ones and a fenced garden for your pets. When all you need in Lake Tarawera accommodation spa is a hot pool, here you will have it. There are also varieties of indoor games that all of you can enjoy.
Once you book a bach with us at Lake Tarawera, you will be amazed by how much fun you can have engaging in water sports, trekking and just by being close to nature.
Amazing outdoor activities at this rotorua holiday home
When traveling to Rotorua, more specifically to tarawera there are varieties of activities that you can engage in and they are best done from this Tarawera accommodation. Besides exploring the lake, you can go hiking along the many available trails, go redwood mountain biking with the 5 bikes available. This Tarawera lodge is a paradise for photography enthusiasts as it is located on a flat section with spectacular views of Mount Tarawera and the lake.
The proximity to the beach, the outdoor activities and the indoor games that you can engage in, the comfort as well as the views will make your stay in Lake Tarawera nz worth it.
The Best new zealand holiday homes that can host 2 families
You and your friend want to enjoy a holiday with each other's family. Or traveling with your perfect family! Have member of different age groups? Not to worry at all. Our executive holiday home at lake tarawera has capacity of 2 families with 9 occupants and you can live comfortably for even a week.
At this one of the best holiday homes Lake Tarawera, you wake up to the sounds of native birds and spectacular views of the lake and the mountains beyond.
We welcome every traveler who is looking for an adventurous or relaxing vacation. Since we are passionate about water sports activities, and hiking we did our best to provide great amenities making it one of the most sought after Lake Tarawera holiday homes.
As the owners of this lake tarawera executive holiday home we have done our best to guarantee you comfort with the available features.
Very close to safe swimming beach
3 kayaks are available all the time.
Got hot pool
A fully functional pizza oven.
Fully fenced garden for pets and small kids with a swing and slide.
Lots of great indoor games, parking for a boat and several cars.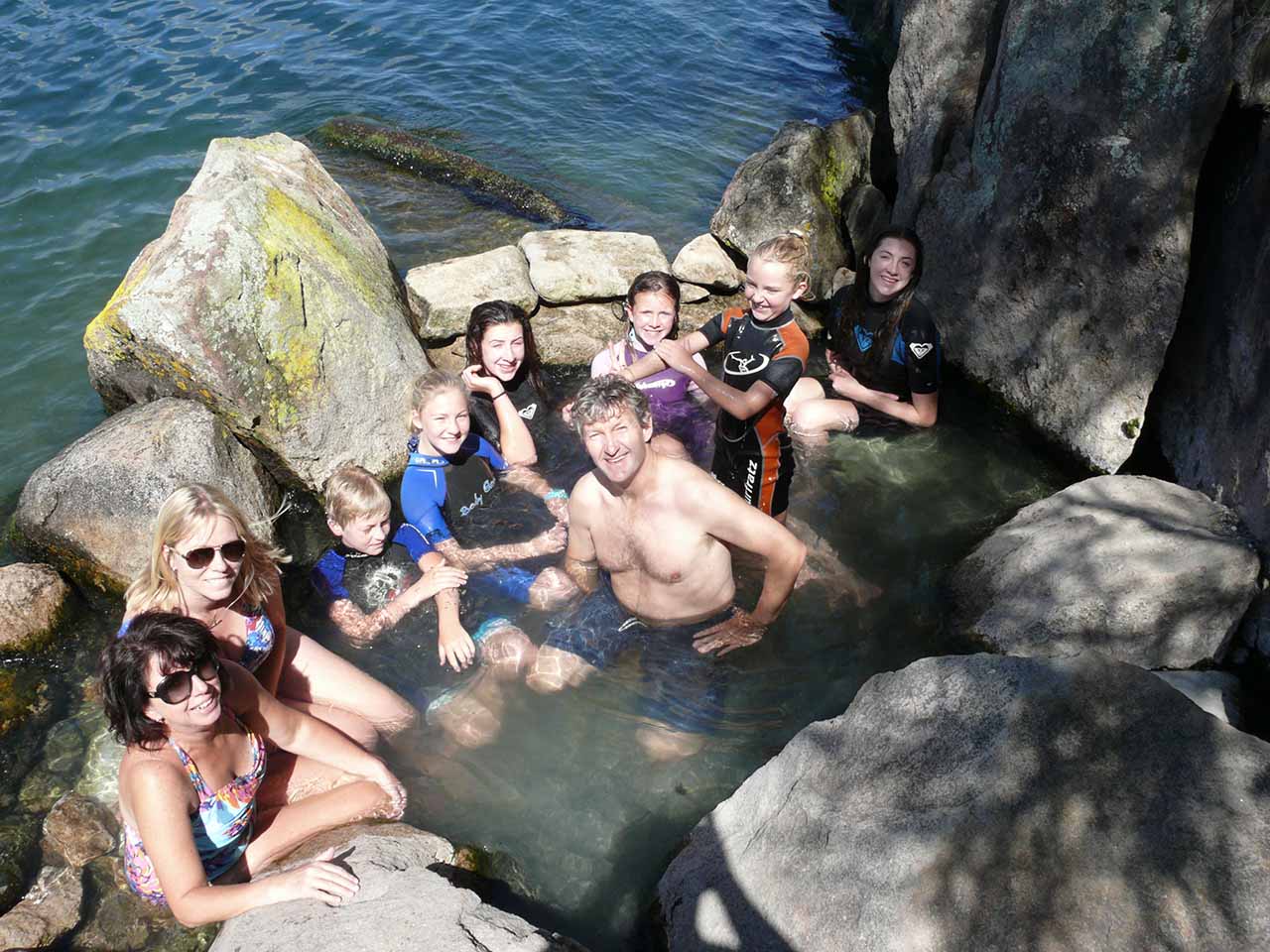 The best option when you want to book a bach lake Tarawera
If you are looking for a home where you can stay comfortably, enjoy swimming, water sports, kayaking and indoor games, this the best lake tarawera accommodation for you. For those that love swimming and sunbathing, it will only take you 30 minutes to get to a beautiful safe swimming beach.
This luxury holiday homes rotorua has 3 kayaks so that you can go kayaking with your family, you can engage in trout fishing best done in April, there is a boat to explore the lake, stand-up paddle boarding and water skiing activities. All these water sports activities guarantee a beach lover of the best experience when they are looking for holiday homes to rent Lake Tarawera.
Balancing your work and life is highly advisable. It's not just about taking a holiday, but a vacation that is worth every minute and cent spent on it. Bookabach Tarawera in a lodge where management is done with visitors in mind and have an unforgettable moment experience.